Charlie Kirk opened his live show on Tuesday by doing a scathing analysis of the current debt crisis this country is facing, calling it "the greatest failure in the last 11 years."
He reported that we went from $12.7 trillion debt to $33 trillion debt in the last decade. Kirk took aim at Democrats and Republicans alike for the government's vast overspending.
He stated that "Republicans [in office] have been just as much, if not more, guilty of fiscal irresponsibility."
He noted that many people, including his listeners, would not want to make any cuts to the current budget, which finances programs such as Social Security and Medicare.
"If you pay into Social Security, that's not an entitlement. You earned that," he said. "Now, I do think you should be able to opt out of Social Security payments… You should be able to say 'no, I don't want it in the future, I don't want it now. I can invest it far more dutifully, than with the federal government.'"
Kirk explained that the federal government "take your Social Security payments via FICA" and then tell the American people "we'll pay you later."
This has amounted to the ratio of those currently paying to retirees falling to 2.5:1 from somewhere around 30:1, according to Kirk.
Being 29 years old, Kirk averred that he would be willing to "strike a deal so that people in their 20s are going to get next to nothing for future Social Security, if it means we can balance the budget."
He clarified that he is not talking about older generations above 50 years old due to the fact they already depend on it and were made a promise to receive it by the government.
"I will say there's a lot of lying around the Social Security or Medicare issue…where it is used as a political football."


Kirk shifted his focus to the concept of retirement as a whole.
"Now, I will say that for future retirees, people under the age of 45, we should absolutely raise the retirement age."
He continued, "I'm going to say something very provocative. I'm not a fan of retirement. I don't think retirement is biblical. I think that if you retire, you should always be doing something. Not to say that you have to, you can't slow down, but you should be helping people, part-time work, you should be helping with the grandkids, volunteering. I do not like the overemphasis on a retirement-based society."
"I think there is so much talent that is not being used."
He alluded to retirees who choose to spend most of their time watching TV and golfing, "what a waste of the gifts that God has given you what a waste of the wisdom that you have been given."
"Now there are young people that need you as a mentor."
Focusing back to Social Security he stated, "So we take money from people who need it the most, young families in their 20s and 30s, and give it to those who need it the least."
He then elaborated on what measures could potentially be taken to combat the country's debt, but noted that it would not be a simple change.
"Now, we could easily just go back to pre-COVID spending… But Congress doesn't want to do that. We have massively expanded the bureaucracies… We expand the federal budget through defense…that seems to be an all the above approach."
He pointed out that government groups such as the Department of Education, the Environmental Protection Agency and "all these bureaucracies" should ultimately be abolished, but that it would not happen realistically. Even cutting their budget back is "easier said than done."
He then showed a chart to his audience depicting the 'Composition of the Proposed Fiscal Year 2024 Budget' which would total $6.9 trillion and asked his audience where they would cut spending.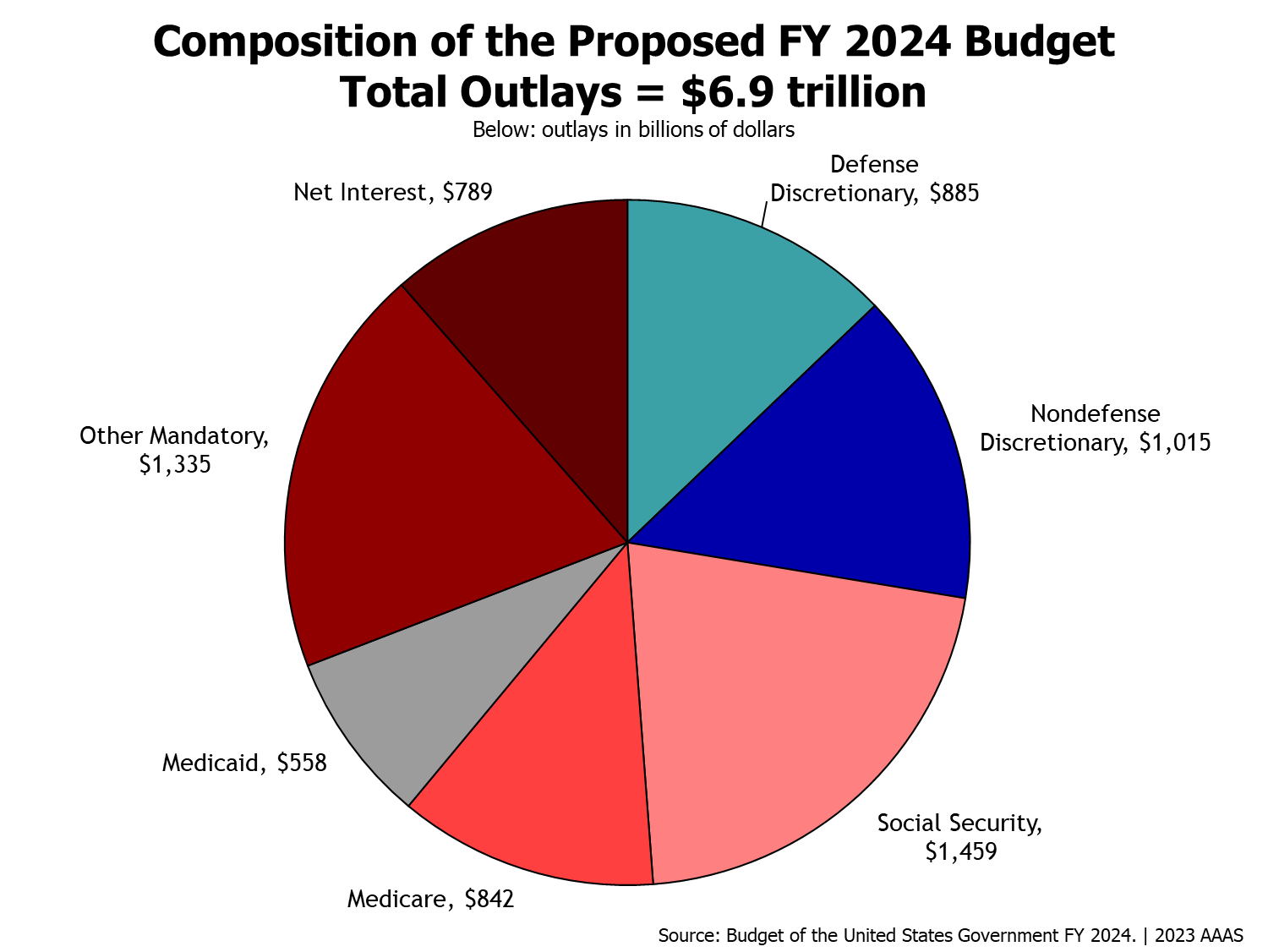 "I know where I would cut. You'd make a lot of people uncomfortable. But just the interest payments alone are $789 billion…to service our debt. He added, "that is paying the price for previous generation spending, soon to be $1 trillion."
Kirk concluded the segment: "If you have a grandkid out there, they're going to be spending the rest of their life as a debt slave to pay for the stuff that we paid for five years ago. It makes the country less free, and it allows totalitarianism and tyranny to dominate."