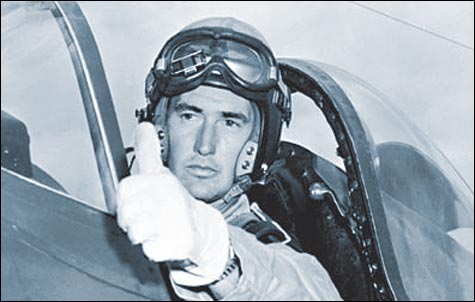 Everything looked to be on the up for America in the summer of 1941, unemployment was on a decline that reached its lowest point (9.66 percent) since 1930, temperatures were average, with the regions most affected by the Dust Bowl receiving normal to above average precipitation, a war that would engulf the world was safely across the ocean, baseball was in full swing and so was Ted Williams.

1941 was a career defining year for Ted Williams. His .406 batting average made him the last to end a professional season over .400. That, coupled with 120 RBI, a slugging percentage of .735 producing 37 home runs and a .553 on-base percentage that brought him home 135 times did much to earn him the nickname "The Greatest Hitter Who Ever Lived."
However, on December 7, naval and air forces of the Empire of Japan attacked Pearl Harbor. The war across the ocean had hit home.
By early 1942 the draft was in full swing and Ted Williams was picked up in January of that year. He was declared 1-A (Available for unrestricted military service) by the draft board, effectively ending his season before it started. However, after several appeals he was reclassified 3-A (Registrant deferred because of hardship to dependents) as he claimed his mother was solely dependent on him.
The fans and press (already a tenuous relationship after a 1940 article claimed he held a hatred for Fenway and Boston fans, a claim he denied) were quick to question his patriotism. Despite promising to enlist after putting away enough for his mother, the bad press, even following his 100th home run the day before, impelled him to enlist in the Navy on May 22, 1942.
Following the end of the 1942 season that earned him his first Triple Crown but not the MVP award (a slight, he felt, "because of the trouble I had with the draft") he was called to duty as a Naval Aviator with the Naval Aviation Cadet program, V-5. "I'm tickled to death and I'm hoping I'll get into the air quick to start some slugging against the Axis," he said.
Despite the statement however, Williams spent the war playing baseball for the Navy with the Chapel Hill Cloudbusters. In 1943 he participated in a war bond drive with other drafted professional players (including such greats as Joe DiMaggio) on a team managed by Babe Ruth against the Boston Braves. A game the Armed Forces won 9-8 with a home run from Ted Williams.
He was discharged to inactive duty January 28, 1946. Williams returned to the majors, but he had not seen his last tour of duty.
Following the outbreak of war in Korea, Williams, much to his displeasure, was recalled to active service (he was opposed to the war in Korea) as an aviator in the Third Marine Air Wing, 223rd Squadron. This time, however, he would see combat.
During his time in Korea, Ted Williams had two close calls. One on Feb. 17, 1953 (and only 13 days in the country) after he lost visual contact with his lead plane, Williams dipped under the cloud cover and into North Korean small arms range. He successfully crash landed his burning Grumman F9F Panther without landing gear, hydraulic pressure or radio back on free soil without serious injury, and for this he received the Air Medal.
The second time, some two months later on April 28, 1953 he was hit by enemy anti-aircraft fire in his wing fuel reserves, which luckily did not ignite, and he returned home safely.
Despite those close calls, constant illness and not injury would cut short his tour of duty. Williams never adjusted to the Korean climate and after several bouts of illness and complications from an old ear infection he was permanently deactivated in July 1953 after 39 combat missions. He returned to baseball where he stayed until his retirement in 1960.
Ted Williams would later go on to downplay his service, writing: "I was no hero. There were maybe seventy-five pilots in our two squadrons and 99 percent of them did a better job than I did." Despite this, future astronaut and VMF-311 wingman, John Glenn said of Ted Williams: "[H]e was a very active combat pilot, and he was an excellent pilot and I give him a lot of credit."
Williams died in 2002 a baseball legend.