A Methodist university recently featured a photograph depicting "gay" Jesus on the cross.
The image was displayed as an art piece – part of  Emory University's Senior Capstone Showcase. An exclusive report from Campus Reform Senior Correspondent Robert Schmad revealed that the school displayed a self-portrait of graduate Tommy Greenler, depicted as Jesus on the cross.  It appeared alongside text that suggested Jesus was homosexual:
"Why did he spend much of his adult life living with 12 male admirers."
"Why was John the only disciple present at the Crucifixion, when many gospels confirmed that Jesus loved him in a special way."
Greenler also made headlines last year, when he performed a drag show in a church affiliated with the school. At the time, Greenler boasted that "there is something very subversive about hosting a drag show at a church, especially a Methodist church like Glenn Memorial."
"I hope that viewers will find this photograph confrontational," Greenler states in the description of the image, adding that he has been "called a sinner my whole life for something I believe that Jesus of Nazareth and I may have had in common."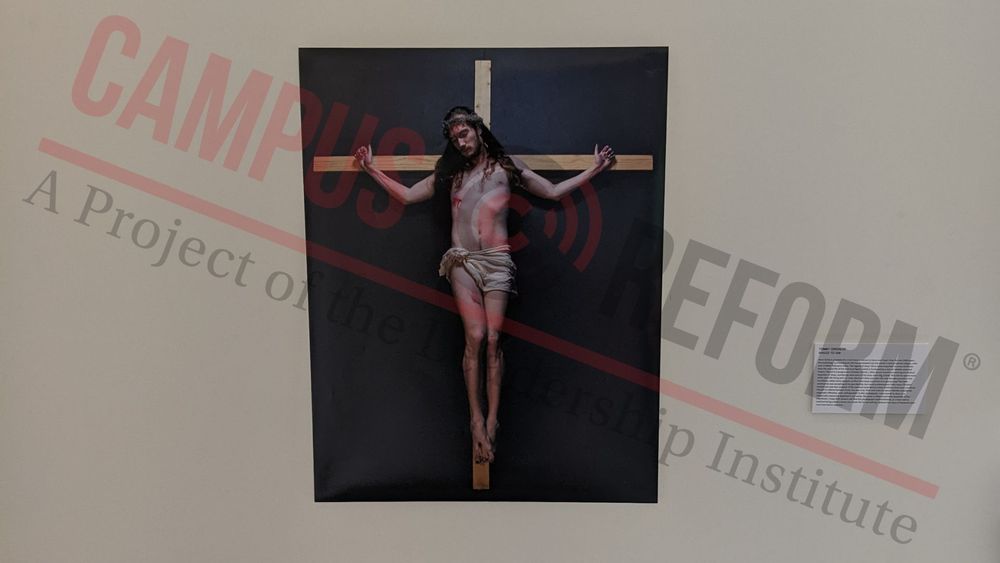 "What I created as a piece of art that calls attention to these facts that are often overlooked in mainstream Christian discourse," Greenler told Campus Reform, "using the iconography of Jesus that has developed (thanks to artists) over hundreds of years."
But Schmad, who is also a student at Emory himself, says that the Methodist school's willingness to promote such content is an example of a widespread, concerning trend.
"Modern Christian universities, with a few notable exceptions, have fallen victim to institutional capture at the hands of secular progressives," Schmad told Human Events. "The state of Christian institutions of higher learning should serve as a warning not only to other religious organizations, but also conservatives generally. Fidelity to principle and virtue must be enforced within our movement. Otherwise, it may meet the fate of the western, Christian college."