UPDATE 12:15 pm
New information has come to light on GOP protest organizer Iron Rail Collective — the anarchist commune located in New Orleans — and protest organizer "D-Bloc".
Louisiana Gov. Bobby Jindal's staffer and her boyfriend were beaten outside of the event.
The Hayride has published extensive web research has uncovered D-Bloc's identity as one Dylan Barr, self-described as a worker at the Iron Rail Collective bookstore in New Orleans.
Barr is also listed on a 2008 post on the NYC Anarchist Black Cross MySpace page as a convicted felon for actions in Seattle, Wash. From the link:
Solidarity with Anarchist and SHAC Activist Dylan Barr
On October 29, 2007, Dylan Barr entered a guilty plea to one felony count of Second Degree Extortion in Seattle, WA for disrupting the operations of Washington Mutual Bank with a Denial of Service attack because of its investment in Huntington Life Sciences. After a two-year period of legal limbo and non-snitching plea deal negotiations, he was sentenced to 232 hours –29 days— of community service and ordered to pay Washington Mutual Bank $25,000 in restitution.

Who is Dylan?
Dylan is a long-time anarchist and activist from New Orleans, and he has been a member of the Iron Rail Book Collective for over three years. Dylan moved to Seattle just prior to Hurricane Katrina, but has now moved back to the Crescent City. He helped organize the 2007 New Orleans Book Fair and is involved with the rebuilding of Nowe Miasto, a long-running collective space in the city, as well as being involved in the recent struggles over public housing in New Orleans. In the past, Dylan has also been involved in Books 2 Prisoners, Food Not Bombs, Critical Resistance, Indymedia, the Buffalo Field Campaign, anti-free trade, indigenous support, union/worker solidarity, and environmental campaigns and organizations. He plans on continuing with these efforts in spite of his sentence.

What motivated the action?
Solidarity has been an important part of the success of the Stop Huntington Animal Cruelty (SHAC) campaign. This Denial of Service (DoS) attack was done in solidarity with the imprisoned SHAC 7, and from a desire to not let their imprisonment break an entire campaign. A Denial of Service (DoS) attack is an overload of e-mails that causes a server to partially shut down, preventing other information from being sent or received.

How can I help?
Dylan would like your solidarity and support. More than anything else, he needs help paying his $25,000 restitution. The government, the real extortionist, imposes a 12 (cuts off after that).
Much more in The Hayride investigation report.
MORNING ORIGINAL UPDATE:
New Orleans Police were able to pull protest videos and information from the anarcho-communist websites claiming responsibility for planning the GOP fundraiser protest before their sites went dark, according to a new report on local Louisiana news outlet The Hayride.
Very well placed sources inform them there is a focus on the anarchist protesters in the beatdown probe. Official channels are downplaying the connection but, according to sources, the New Orleans Police are conducting a thorough investigation of related groups.
Allee Bautsch, 25, a top fundraiser for Louisiana Gov. Bobby Jindal, and her boyfriend, Joe Brown, 29, were verbally assaulted as they left a high-dollar GOP fundraising event April 9. They were followed to their car then savagely beaten but not robbed by their assailants.
Bautsch's leg was "stomped" causing breaks in four places that required surgery, a steel rod and seven screws to reconstruct. Brown suffered a broken jaw and nose, a brain concussion and black eye.
Jindal spokesman Kyle Plotkin now says Louisiana State Police are involved in the investigation.
"State Police has been in regular communications with the NOPD to get updates on the investigation," Plotkin said. "While the NOPD is the lead investigative agency, State Police detectives are supporting the NOPD's efforts."
The main organizer of the protest is the New Orleans-based Iron Rail Collective, a radical left anarchist group. Its members were bragging about their efforts on websites after the protest and attack.
The lead Iron Rail protest braggart calls himself "D-Bloc" and according to his own posts on the web he has been responsible for vandalizing banks in the New Orleans area.
"D-Bloc" bragged on The Gambit Blog of New Orleans on April 9 the protest went well because there was "Tons of direct confrontation. New Orleans bared its teeth and snarled, and the rich plutocrats shat themselves in fear."
"D-Bloc" posted a few days later in the same section when reports of the beating began to surface on news outlet The Hayride and throughout the blogosphere, "Look, some flea-bitten right-wing blog is linking! FYI, any out-of-town republicans reading this, I'm just sorry y'all weren't at the corner of Royal & Canal Saturday night."
The reference is to the eight people shot in New Orleans on the Corner of Royal and Canal Streets on April 10 unrelated to the Bautsch and Brown case the night before.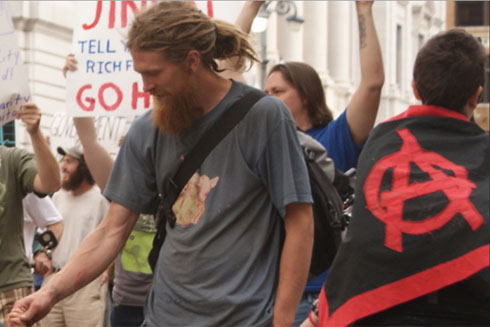 On a side note, the The Hayride found images of a man matching the description in the police report in several videos of the protest crowds. Bautsch confirmed in email the perpetrator "looked exactly like that, and so did the rest of them (with different color hair)." She said that she couldn't give a positive ID from this photo that this was the man who attacked her but he fits the description they gave to the New Orleans police.
Much more at The Hayride link.