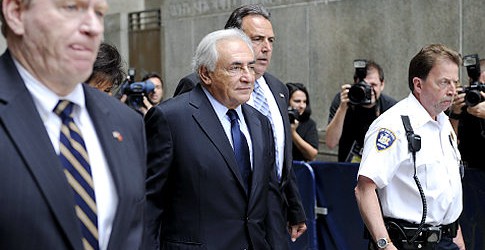 With each day, speculation mounts from New York City that, sooner rather than later, District Attorney Cyrus Vance Jr. will completely drop the assault charges against Dominique Strauss-Kahn that have captivated the world since the former International Monetary Fund director's arrest May 14.
Now there is fresh speculation about whether, if all charges are dropped against the man widely known as DSK, the French economist and politician will return to his country and resume what appeared to be his intention to run for president in 2012.
Before DSK's spectacular arrest, it was widely assumed that he would resign the International Monetary Fund's helm on July 13, the day of the filing deadline to seek the presidential nomination in the Socialist Party primary held Oct. 9. Polls showed the former finance minister the strong favorite among militantes (card-carrying party members) over four opponents, including 2007 nominee Segolene Royal (who handily defeated Strauss-Kahn for nomination in the primary five years ago). A France-Soir poll conducted in March showed Strauss-Kahn topping the May 2012 general election field with 29% of the vote, compared with 23% for President Nicolas Sarkozy and 21% for National Front candidate Marine LePen.
So, claiming a strong degree of vindication, can the 62-year-old DSK recapture this political brass ring?.
Much has been written about a just-completed Harris Poll showing 49% of French citizens want Strauss-Kahn to "come back to the French political scene," compared with 45% who don't. However, that poll was about a very general comeback. More specifically, a just-completed poll of the weekly Le Nouvel Observateur found that 54% of voters nationwide do not want him to run in the Socialist primary and 63% say they don't expect him to.
In short, Strauss-Kahn retains a strong following, but he is also far from the dominant figure he was in his party or in the general election before May 14. The events in New York have taken their toll, and Strauss-Khan would clearly have to campaign harder than he anticipated to win the nomination over Royal and others in October.
There are other factors as well. As word spread that the assault charges would likely be dropped, fiction writer Tristane Banon filed a suit in France alleging that Strauss-Kahn attempted to rape her during an interview she conducted in 2003. (Banon has repeatedly brought up these charges over the years and DSK has long denied them, including in his authorized biography. Shortly after she filed the suit, he filed a countersuit for slander.)
More significantly, Strauss-Kahn's acceptance of market economics has long been a stumbling block for supporting him among his party's hard Left. Opponent Royal's website once featured a column criticizing the "DSK Right." Throughout the trial, the vast wealth of the IMF chief and wife Anne Sinclair was on display, ranging from the $50,000-a-year Manhattan townhouse they rented to the $700 dinner they shared at an Italian restaurant last Friday after a judge ordered his house arrest ended and bail money returned.
What clearly was underscored was the image of the Strauss-Kahns as "caviar socialists"—and that doesn't help in Socialist primaries.
Strauss-Kahn may one day resume a political career, but it is highly unlikely in 2012. So don't look for him as a presidential candidate. And don't wonder when seeing a picture of French President Nicolas Sarkozy: "Why is this man smiling?"