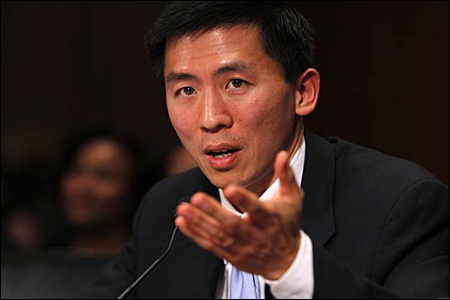 Senate Republicans handed President Obama a significant defeat on Thursday in a filibuster vote that effectively blocks leftist Berkeley law Prof. Goodwin Liu from sitting on the Ninth Circuit Court of Appeals.
Democrats failed to end the filibuster, which requires 60 votes, mostly along party lines of 52 to 43. Sen. Lisa Murkowski of Alaska was the only Republican to support Liu and Sen. Ben Nelson of Nebraska was the only Democrat to oppose him.
"Clearly the Constitution would take a backseat in his courtroom," said Minority Leader Mitch McConnell (R.-Ky.)
"This is precisely the kind of judge we want to prevent from getting into the courtroom," McConnell said. "His philosophy might be popular on left-wing campuses, but it has no business in a courtroom."
Calling him an activist judge who is likely to treat the Constitution as a living, breathing document, Republicans said prior to the vote that they also opposed Liu based on his controversial criticisms of Supreme Court Justices John Roberts and Samuel Alito during their confirmation process.
"Judge Alito's record envisions an America where police may shoot and kill an unarmed boy to stop him from running away with a stolen purse, where a black man may be sentenced to death by an all-white jury for killing a white man … this is not the America we know. Nor is it the America we aspire to be," Liu said.
In 2005, Liu criticized Roberts in a Bloomberg News article for belonging to the Republican National Lawyers Association and the National Legal Center for the Public Interest. Liu called the groups' missions of free enterprise, private property ownership and limited government "code words for an ideological agenda hostile to environmental, workplace and consumer protections."
"Give me a break," said Sen. Jeff Sessions (R.-Ala.). "That language was unnecessarily called for."
Added Sen. Lindsey Graham (R.-S.C.): "These words were designed to destroy, and they ring of an ideologue. He should run for office, not be sitting on the court."
Sen. John Cornyn (R.-Tex.) called Liu's comments "vicious" and "disgraceful."
"He is a serious threat to the rule of law and principles that make this nation great," Cornyn said.
Sen. Joseph Lieberman (I.-Conn. ) defended Liu's comments, saying they had the "ring of a passionate litigator," but later said he regretted them. Lieberman, along with other Democrats, made the case for Liu by focusing on his personal life—a story they called quintessentially American.
Liu's parents emigrated from Taiwan to Sacramento. Although he has no experience as a judge or even a practicing lawyer, Liu clerked for Supreme Court Justice Ruth Bader.
"He is a star in everything he has ever done," said Sen. Barbara Boxer (D.-Calif.). "If he doesn't get his, it's about politics," Boxer said. "It says more about the people in this place than it does about Goodwin."
If Liu had been confirmed, he would have become the first Asian-American to serve on the appeals bench, said Sen. Patrick Leahy (D.-Vt.), chairman of the Judiciary Committee. "He would bring much-needed diversity to the federal bench," Leahy said.
Democrats weren't as enthusiastic about confirming minorities to the bench during the previous Bush administration. The nomination of Miguel Estrada, who emigrated from Honduras, languished for two years under Democrat control of the Senate, and he eventually withdrew his name for consideration to an appellate court.