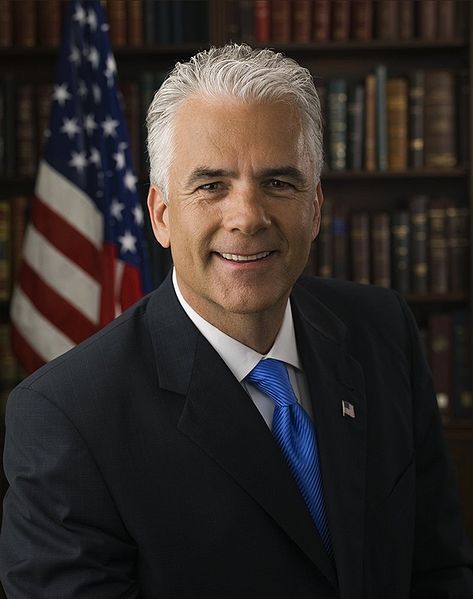 Not since the death of veteran Sen. Pat McCarran (D.-Nev) in 1954 has Nevada politics been thrown into such upheaval as it was last night with the news that embattled Sen. John Ensign (R.-Nev.) is resigning.
With an investigation by the Senate Ethics Committee, along with a criminal probe coming to a close, Ensign chose the better part of valor and saved constituents further embarrassment about whether he paid "hush money" to former lover Cynthia Hampton and her husband, Doug (who had previously worked for Ensign). In so doing, he has paved the way for the Silver State's first special Senate election since '54, and an uncertain special election for the House as well.
All signs are that Republican Gov. Brian Sandoval will quickly appoint fellow GOPer and Rep. Dean Heller to replace Ensign in the Senate. There's no surprise there: Heller (lifetime American Conservative Union rating: 89%) had been running for the Senate since Ensign announced months ago he would not been running again. Under Nevada election law, a Senate vacancy must be filled by special election within 180 days of a vacancy. Quite obviously, the governor's intention is to give a leg up to Heller over the likely Democratic candidate, Rep. Shelly Berkley.
But old political hands in Nevada caution that this tactic didn't work the last time. After McCarran's death in 1954, Republican Gov. Charlie Russell appointed former Washoe County District Attorney and fellow Republican Ernest Brown to the Senate. In the "snap" special election, interim Sen. Brown lost to Democrat Alan Bible, who would go on to serve 20 years in the Senate.
More intriguing than the Senate contest is the resulting special U.S. House race in the northern Nevada district that will have a vacancy as a result of Heller's appointment to the Senate. The district has already drawn national press attention because Sharron Angle—who lost the internationally watched Senate race against Majority Leader Harry Reid (D-Nev.) last year—has already declared for the Republican nomination.
Although Republicans in northern Nevada usually agree with the conservative views of Angle (who was beaten for nomination to the House in '06 by Heller), many fear that the controversy that surrounds her occasional outspoken remarks would help elect a Democrat to the House seat—possibly State Treasurer Kate Marshall, or two-time Democratic House nominee Jan Derby.
As a result, there has been an "Anybody But Angle (ABA)" movement among Republicans in the district. Retired U.S. Navy Commander Kirk Lippold, famed for his service on board the U.S.S. Cole when it was bombed by terrorists in Yemen a decade ago, has emerged as the leading "ABA" candidate.
Now, with Heller's jump to the Senate, there is likely to be an influx of fresh GOP candidates for his House seat. Lt. Gov. Brian Krolicki may run when the current legislative session concludes and both state Senators Greg Brewer and Mark Amodei (who doubles as Republican state chairman) have signaled their interest in Heller's soon-to-be-open House seat.
The uncertainty in Heller's House district is enhanced by early reports that the nominees for a special election will be chosen by party caucuses rather than primaries.
With all the personal considerations that weighed on John Ensign when he tendered his resignation from the Senate, who knows whether he realized that he would put his state's politics into its most unpredictable condition in 56 years.