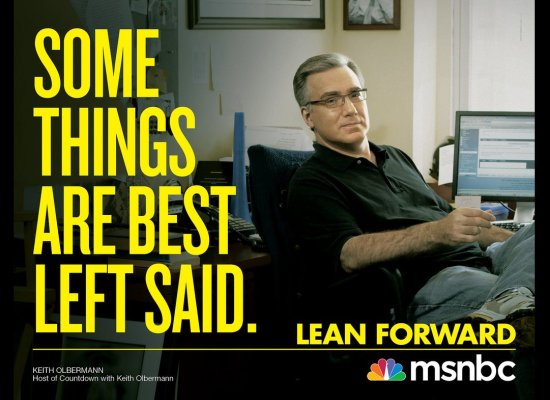 MSNBC's Keith Olbermann was suspended without pay today for making political donations, which is in violation of company policy. Olbermann gave campaign donations this year to Rep. Raul Grijalva (D-Ariz.), Rep. Gabrielle Giffords (D-Ariz.), and Democrat Jack Conway, who ran for Senate in Kentucky.
Olbermann made the $2,400 federal maximum campaign donation to Grijalva on October 28, the same day the congressman was a guest on his TV show, according to Politico.
President of MSNBC Phil Griffin released a statement on Friday: "I became aware of Keith's political contributions late last night. Mindful of NBC News policy and standards, I have suspended him indefinitely without pay."
The host of "Countdown with Keith Olbermann" signed a four-year contract in 2008, which is estimated to be worth $30 million. Olbermann's show airs on weeknights 8 to 9 pm. The network did not announce who is hosting the show tonight or in the future.
Ironically, White House Spokesman Bill Burton cited Olbermann as one of President Obama's idols for honesty and integrity in government. "If you're somebody like Keith Olbermann or Rachel Maddow or one of the folks who helps to keep our government honest and pushes and prods to make sure that folks are true to progressive values, then [Obama] thinks that those folks provide an invaluable service," Burton said in late September.
The corporate policy of NBC News, which owns and runs MSNBC, is that "Anyone working for NBC News who takes part in civic or other outside activities may find that these activities jeopardize his or her standing as an impartial journalist because they may create the appearance of a conflict of interest. Such activities may include participation in or contributions to political campaigns or groups that espouse controversial positions. You should report any such potential conflicts in advance to, and obtain prior approval of, the President of NBC News or his designee."
Under Griffin's leadership, MSNBC has positioned itself as the liberal TV outpost for such commentators as Olbermann, Chris Matthews, Rachel Maddow, Ed Schultz, and Laurence O'Donnell.
MSNBC just launched a multi-million-dollar ad campaign in early October called "Lean Forward," which uses Olbermann as the most prominent face of the network. Griffin said that the "Lean Forward" campaign targets "the entire East Coast corridor, where we know we have a large audience." He said you'll see the "Lean Forward" ads "at Grand Central Station … Penn Station, Philadelphia … in Washington because we know that's a really important corridor."
"Keith Olbermann is at the core of MSNBC's current success," Griffin stated in 2008 when he renewed Olbermann's contract. "'Countdown' is our signature program and I'm thrilled that we're going to be able to bring it to Keith's loyal viewers for another four-year term."
Olbermann usually posts often on Twitter, but went radio-silent at 11 pm Thursday night. He has tweeted once since, Friday at 11 am, to respond to a question about his "Worst Person In the World" segment. "Suspended [the segment on] Monday, during show, in the spirit of what was right about [Jon] Stewart's remarks," he tweeted.
An outspoken liberal, Olbermann's most recent written commentary was entitled, "If the Tea Party wins, America loses: The laws of the country will revert backwards because of its new government."
As the House goes, so goes the liberal media….